Event Expired.
Sorry, Event has been expired.
"You drove me crazy" – theatrical comedian therapy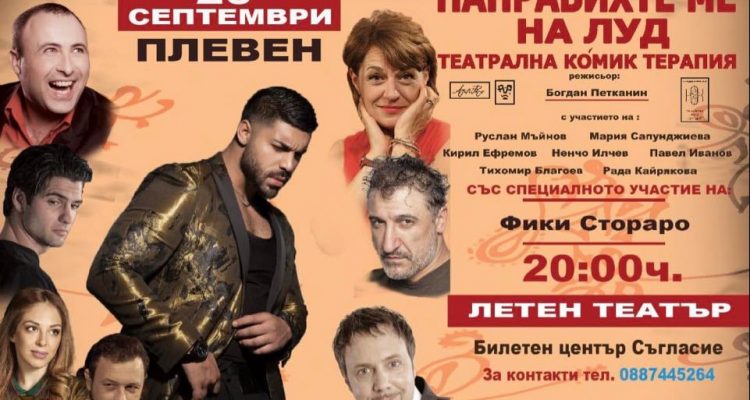 Director: Bogdan PETKANIN – Honored Artist of North Ossetia-Atania, change of bellows and adjustment
Scene-painter: Milen Borichev – fitness instructor
Screenwriter: Ivan Angelov – inscriptions on cakes
Featuring:
Fiki STORARO – musical guest of the evening
Ruslan MAYNOV – Set designer, costume designer, choreographer, organizer, make-up, wigs, soloist, welder – fourth grade
Maria SAPUNDZHIEVA – People's Artist of Drama, Melodrama, Tragedy, Comedy, Pantomime, Surrealism and Cubism, toilet tenant
Nencho ILCHEV – Master of Performing Arts, honorary member of the Association of Illusionists of Papua and New Guinea, Kyrgyzstan, hydro and thermal insulation
Kiril EFREMOV – Laureate of the International Festival in Warsaw, as well as Honored Worker of Poster Art, artist under Article 9, electrical services
Tihomir BLAGOEV – Laureate of the national competition for masters of non-theatrical art, terracotta and faience
Rada KAYRYAKOVA – for a young actress, nowadays it is a miracle, fortune-telling – cartomancy, coffee, beans
Pavel IVANOV – participant
Humor, music, songs …
In "Ko'Mik Theatre Therapy" you will see miniatures from "The blind love", "He sang", "Half a woman", "She sang", "The magician's tricks", "She came to him", "War and peace", "An old lathe for a young nut". This show could be named: "Whoever survives, let him tell", also "They can do so much", and "Playing in the millet", and why not "They can't stop us", and also "And more and again, laughter under the hood", and "50 shades of the outdoors".
September 20, 2021, Summer Theatre – "Kaylaka Park", 8.00 p.m.
Tickets – "SAGLASIE" Ticket Centre